You want to know even more about David M Robertson?
His Personal Mission Statement
"To simply be the best me I can be. To become a wiser, more understanding, and a more reliable me. To build up and promote the acceptance of myself and those around me, accountability in all situations, and appreciation for the life in which I have been given and the lives with those I share. To increase my capacity for love, honesty, and integrity. To never quit in my efforts to follow the character example of my stepfather. To remain steadfast in my vision and goals but remain flexible and adaptable, as the imperfections are usually the best. To be open and willing to explore new opportunities and adventures. All this, while maintaining a high standard of integrity and both self and outward respect."
His Personal Vision Statement
"I continue to learn as much as I can about everything I can. I spend what time I have with my daughter, sharing what I have learned and I chase my dreams to lead by example. My time in nature helps me get closer with God. I foster connections with friends and spend quality time with family. I write and publish to help humanity. I experiment for better understanding and apply what I have learned. I am defined by wisdom, valor, reliability, love, freedom, and conviction. I continually strive to improve my overall health. I mentor those who seek guidance. I do not live to work, I work to live. I do not cheapen myself or my abilities for the sake of monetary gain. My heart is open. I explore, and I am sixteen thousand feet above the ground for doing so."
– Early life and Family –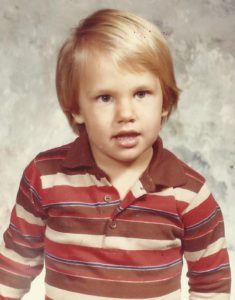 David M Robertson was born in Hutchinson, Kansas; the son of Tanya (Johnson) and James M Robertson. Just a few months after his birth, his family moved to Scottsdale Arizona. His parents separated and divorced when he was in the second grade. He lived primarily with his mother and attended schools in Fountain Hills, Mesa and Ahwatukee Arizona. He eventually moved back to Kansas to live with his mother who remarried. Robertson graduated high school in Towanda, Kansas.
Many details of his childhood were not discussed during this interview because he doesn't like to talk about it. When asked, Robertson said "It was pretty rough sometimes. There are a lot of things that happened that I wouldn't wish on anyone. It didn't really begin to turn around until I was a teenager but I carried much of it with me for many years after."
When Robertson was a young teenager, his biological father was murdered in Las Vegas, Nevada and was later buried in Kingman, Arizona. Robertson was essentially abandoned by his father's immediate family after his father's death and it was later discovered that this was primarily due to the stress related to remembrance. Robertson maintained a decent relationship with cousins and distant cousins. Pictures of David's childhood, trophies, and memorabilia were lost in a storage auction when his uncle (his father's brother) neglected to pay a storage bill after the murder. It was also discovered that his uncle had retained the vast majority of David's inheritance; including things previous promised to David. To this day, the only things David received from his father were the things pulled from his body by the EMS.
Today, David's immediate family consists of his mother, his step-father, his girls, two step-brothers and an estranged half-brother.
– High School and College –
Growing up, Robertson's big love in school was football. He began playing varsity football his freshman year at Circle High School. He was also involved in choir and theater and received a "Delta Award" for GPA. He was the Fall Homecoming King of 1997. A miscalculation by an academic coach rendered him ineligible to play sports at the Division 1 level, so Robertson attended Butler County Community College in 1997 on a football scholarship where he later received an injury to his hip that removed him from the program. He took some time to heal and in 1998, he was able to secure another football scholarship with Fort Scott Community College as a starting outside linebacker. Unfortunately, he received an injury to his neck and shoulder that removed him from the program.
After having taken several years off from school, in 2005, Robertson wanted to explore education again. Unsure about his direction, he began taking free online college courses from many top universities in the effort to find a direction. Soon after, he began correspondence studies at HMI where he received a certificate in hypnosis.
Robertson eventually decided that he wanted to graduate from Southwestern College with a Security Management degree, but he was told that he didn't have enough credit hours to transfer into their program. So, he went back to Butler County to gain the required credit hours. Finally, in 2007, he began his studies at Southwestern College.
David would later change direction and pursue his leadership studies. He graduated in 2009 with a B.S. in both Leadership and in Security Management. That same year, he achieved educational certificates in Homeland Security and Operational Leadership. Robertson would go on to earn a Masters of Science in Leadership degree from Southwestern College in 2014 and other educational certificates.
Robertson suggests that the secret to his academic and writing success was that he was able to take advantage of the open library and the free access to peer reviewed journals online. His spare time was spent reading books and journals on the lists of the various majors and disciplines that interested him. These included things like Biology, Psychology, Political Science, Religion and others.
– Career –
Robertson has worked in a variety of different positions in his life. From a professional dog trainer to graphic design, he has tried his hand at a variety of different jobs. The majority of his career has been predominantly marketing, advertising and leadership oriented and entrepreneurship has been the driving force.
Robertson began learning about graphic design when he was 14 years old. He was intrigued by what computers could do and began to experiment and teach himself graphic design to help his mother's computer-based company. Graphic design would eventually become a big part of his career.
Robertson started his first company when he was 16 years. It was called "69ers Funwear" and he produced t-shirts with sexual innuendos for his classmates. Three of his designs would go on to live in infamy and were repeatedly stolen by bigger companies throughout the United States. The first was the logo itself; "69ers". The second was the famed "Speed Limit 69" which was a simple speed limit sign with "69" as the posted limit. The third was a poker hand showing an Ace of Spades, a King of Spades, a Six of Hearts, a Nine of Hearts and a 10 of Spades, with the slogan "Six and Nines are WILD!" He found success and discovered the importance of marketing when a few students all decided to wear the shirts to school on the same day. The staff was outraged and declared over the school's intercom that "69ers Funwear t-shirts is not allowed on school property". For many weeks after that announcement, Robertson couldn't keep up with the demand because the parents of his classmates continued to order them.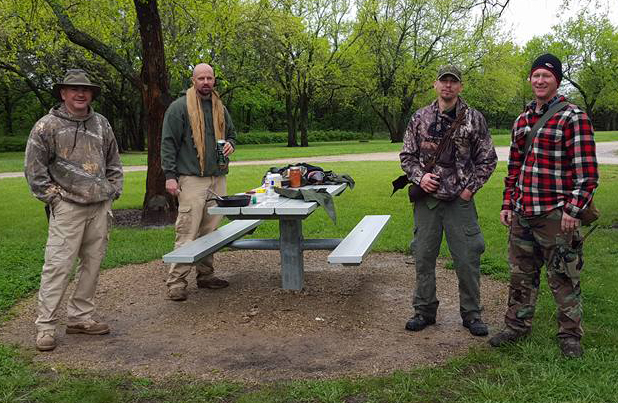 Between 1998 and 2001, Robertson had landed several part-time graphic design jobs that paid pretty well. This helped establish a graphic design resume which landed him a job as a graphic designer at a local advertising firm in 2002. However, a falling out with the owner over the owner's unethical business practices would force Robertson to resign.
That same year, Robertson decided to go into business for himself and founded the marketing and advertising firm "TITAN LLC" in Wichita, Kansas. He started this company with $150 which was enough to secure a bank account, buy some business cards and file the necessary paperwork with the state. TITAN offered a variety of marketing and advertising products and services such as graphic design, business cards, website production, media negotiations and purchases and so on. Over the years, it would expand to include marketing development and strategy, client education and consultations, signage, paper products and much more.
By 2005, business at TITAN was steady but it was streamlined. As a result, Robertson opened up a consulting offshoot that provided marketing, management/leadership, business development and structure advice and services. It would eventually be called "Reasoned Leadership"; the premise of one of his books.
During market lulls, Robertson would explore part-time jobs, semi-full time jobs or school. By November of 2006, Robertson had a steady list of clients and his business model required only a few hours of work and only on a couple days a week. He decided to take a semi-fulltime job as a graphic designer at River City Awning, in Wichita, Kansas. This gave him the opportunity to expand upon his graphic design knowledge and produce works for fortune 500 companies from around the nation. He worked his way up to Co-Plant Manager but in August of 2008, the company was sold and liquidated.
In September of 2011, Robertson began the process of selling TITAN to a competitor to chase a career more aligned with his degree. In October of 2011, he secured a job as a Multi-Unit Asset Protection Manager with Wal-Mart. A specialized position, Robertson would become the co-developer of the Small Format Multi-Unit Asset Protection Model and the sole developer of the Small Format Anti-Pushout Model. However, when it became clear that his dream of "working his way to the top" would not be realized with the company, due in-part to excessively high turnover above him, he submitted his resignation in April of 2016 and began exploring other opportunities.
In June of 2016, Robertson secured a newly created position as a Marketing Analyst with Credit Union of America. His job was to research and provide insights regarding economic indicators and projections, market, trends, competitors and concept creation. Robertson fell in love with the Credit Union model. Unfortunately, he was restructured out of a job in March of 2017. As the H.R. Manager stated in her recommendation, "I can honestly, without reservation, recommend Mr. Robertson as an excellent employee and one that will bring integrity and hard work to an organization. He has impeccable attention to detail and will give his best on a daily basis."
In late 2017, Robertson began to consolidate his work onto a single website (this one) and decided to focus his energies on helping others. In January of 2018, he created GrassFire Industries LLC and he has remained there since.
—— Public Life ——
– Radio Career –

In early 2002, Robertson became the co-host of a weekend radio show on KANR, 92.7 in Wichita, Kansas. His slide into political radio can be credited with a small segment on his show called "The Bull-Gordan Liddy Segment" which was a subtle nod to the former conservative talk show host G. Gordan Liddy.
Later that same year, he created the "Leadhead Lockout" which later became one of the Midwest's top College Metal Specialty Shows. Robertson slowly developed a small syndication and became a "Crucial Spins Reporter" for national journals such as the CMJ New Music Report. Robertson secured a sponsorship from RedBull due in-part to his nickname (Bull) and the energy of the show. The show came to an end in August of 2005 when Robertson decided to dedicate more time to his company, "TITAN LLC".
In 2007, Robertson began to experiment with pod-casting. He developed a small following of his weekly hour-long conservative talk show titled "An American Warning". This helped him gain the confidence necessary to complete and publish his first book titled the very same. Though his first book failed, it did help him to secure interviews on various national media outlets during the promotion process. One such interview provided Robertson the connection necessary to secure a daily radio program on a small radio station out of Austin Texas.
By 2009, Robertson had a daily three-hour radio show that was syndicated on AM radio stations throughout the United States. His rise was swift but short-lived. In late 2010, an allergic reaction to an antibiotic taken for a severe sinus infection would end his radio career. The reaction affected his voice and kept him from speaking for more than a few minutes at a time. It took years to heal from it. By the time he had healed, he had lost his show and his syndication.
– Public Speaking –
Robertson began his public speaking career when he was 15 years old; standing on a concrete base of a light post in the parking lot of a greyhound park after work one late evening. What started out as a conversation between two people about "the way things are supposed to be" soon grew to a long speech to a small crowd of roughly 20. Since then, he has given speeches to small classes and gatherings, conventions of hundreds and political rally's boasting over a thousand.

– Where the Writing Began –
In 1999, David began to write about the possibility of economic calamity and war. His writing initially consisted of emails to friends and family, warning them about some of what his projection model was showing him. His research continued over the years and so did his writing.
His friends and family continually encouraged him to write a book about his findings. In late 2004, his first manuscript was under way but it would take another four years before Robertson would gain the courage necessary to really consider publication. In 2009, it finally happened. An American Warning was the result; named after the emails he used to send to his readers. His first book was an utter failure but Robertson saw it as a opportunity to learn about the industry and improve upon his writing skills.
– The Projection Model: The Three Rule Method –
A major reason Robertson began writing is because of his "Projection Model". In 1998, Robertson took a U.S. History class at Fort Scott Community College. His professor was an interesting man who also happened to be a recently retired CIA employee. The professor pushed and challenged Robertson in several ways. One way specifically was using something the professor called "detailed logical processes".
The two exchanged many ideas in one-on-one sessions and Robertson was tasked with several projects throughout that semester. One of the projects that Robertson participated in would eventually spawn something Robertson coined as "The Three Rule Method", and something known as his "Projection Model"; a technique that allows someone to narrow down the best possible solutions/answers, in the shortest period of time, with the greatest possibility of being correct.
Its accuracy has proven itself to be impressive. Examples might include demonstrating Syria's role in global politics several years before they really took the stage or how Russia and China would play such a substantial role in regard to Venezuela during their economic crisis and beyond. Many have said his model to be "doom and gloom" though he contends that it is cyclical and "all bad things will pass".
The model uses history as a guide; understanding that history rhymes. Then it attempts to project possibilities using current events and trends. Since roughly 1999, the model has suggested that a significant economic downturn and global war is underway for the United States and perhaps the world. It suggests that the 2010's winning streak will end with major repercussions and that the United States will be involved in a global war with and/or against other players such as China, Russia, North Korea, Iran, Venezuela and others – and not long after the "economic upheaval" begins to show itself. The model has pinpointed four "hot-zones" for the coming war which include the Baltic's, the Middle-East (in through the horn of Africa), the South China Sea/Pacific and the United States. The model also suggests that this cycle began between 2006-2008 and it is expected to be over by roughly 2026 or 2028 – with 2017 being the midway.
Robertson contends that based on what the model suggests that he really hopes that the model is wrong but that the evidence suggests that the chances of it being wrong are very slim. You can read more about this in RELOADED: An American Warning.
– Deism and The Trinion Contradictions –
Robertson grew up Christian. In his childhood, he was very religious. However, over the years, questions began to arise concerning what he saw as discrepancies within the Bible and the practices of the church. At the age of 12, he began to ask his preacher a series of questions about those discrepancies but they were answered with "That's just the way God wants it!" Not satisfied with that answer, Robertson continued to ask questions surrounding the discrepancies until a request for his removal from Sunday school put an end to his church participation.
Robertson's transition into Deism began in 1995 after reading portions of Benjamin Franklin's autobiography for a school assignment. He had never heard of the term "Deism" until this point and he was intrigued by the impact that Deism had on Franklin; one of Robertson's heroes. Specifically, Franklin wrote "My parents had early given me religious impressions, and brought me through my childhood piously in the Dissenting way. But I was scarce fifteen when after doubting, by turns, of several points as I found them disputed in the different books I read, I began to doubt of Revelation itself. Some books against Deism fell into my hands; they were said to be the substance of sermons preached at Boyle's Lectures. It happened that they wrought an effect on me quite contrary to what was intended by them; for the arguments of the Deists, which were quoted to be refuted, appeared to me much stronger than the refutations; in short, I soon became a thorough Deist."
Not long after that, Robertson found Thomas Paine's "The Age of Reason" and Ethan Allen's "Reason: The Only Oracle of Man". Robertson soon discovered that many of the more influential Founding Fathers of the United States were either Deist or Unitarian, so Robertson began to study those religions specifically. He was intrigued by the religion once coined as "the religion reserved for the intellectual" and felt that his heart and mind leaned more with the beliefs of Deism over Christianity.
However, Robertson felt as though something was still missing and knew his ideas were not entirely aligned with Classical Deism. In 1999, he slowly and discretely began to write a series of notes on the topic when he became frustrated about life due to personal health problems. These notes were several pages long and he called them "My Search for Answers". Years later, he condensed his notes down into a single equation. He called this equation "The Trinion Contradictions". This equation demonstrates how destiny, prayer and free will are incompatible with one another. Robertson's equation and work would later help spawn a new sect of Deism known as Neo-Deism.
In 2009, Robertson began to speak publicly about Deism and mentored those seeking to learn more about it as well. In 2013, Robertson teamed up with Unified Deism and began to create videos on Youtube. Under the name "Devout Deism", Robertson helped to describe and explain various elements of the Deist belief system and in the coming years, he would speak at various Deist events. In 2016, he published a book on the topic and then released a Second Edition in 2017.
– Journey Into Health –
Through most of his life, Robertson had been plagued by mild to severe sinus infections due to a deviated septum which was believed to be caused by a broken nose. Various antibiotics over the years had taken their toll on his tendons and ligaments. It was unknown at the time, but this would eventually contribute to a series of strange injuries during his late teens and early twenties.
In late 1999, Robertson's appendix had begun to rupture. Believing it was just an upset stomach, he waited at home in the hopes of recovery. Recovery never came. His ailment got worse and he was soon on the floor of the kitchen calling a family member for help.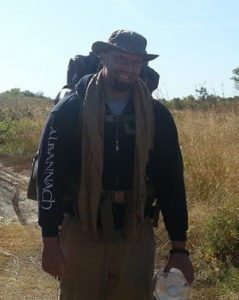 Not thinking clearly, Robertson attempted to drive himself to the hospital. Tunnel vision impaired his driving ability but thanks to the help of paramedics at a fast-food restaurant nearby, Robertson was able to walk into the Emergency Room. This was unfortunately the worst thing that could have happened as he was forced to wait in the waiting room while the infection began to seep deeper into his body.
Almost an hour later, Robertson was seen by a doctor. Not long after that, he was in surgery. Unfortunately, the infection had spread enough that an abundance of antibiotics would be necessary to realize recovery. This time, the antibiotic use would change his life.
The years of antibiotic use had finally begun to show and he had developed an allergy to at least one of them. For the next several years, a systemic fungal infection would rule his life. Unfortunately, the many doctors he visited were unable to help. Not even the vicious anti-fungals could help.
As his condition worsened, Robertson began to take matters into his own hands. Extensive research would eventually lead to personal experimentation with a variety of natural remedies and experimental microbiology (anything from adding human sourced beneficial bacteria to kefir to fecal microbiota transplant's). Eventually, Robertson began to understand the complex nature of the body and gradually began to heal from the condition. As he healed, he turned more to nature in general.
Testament to his research and understanding is that he has not suffered from a sinus infection since going down that path and his fungal infection has been eradicated.
Now, Robertson often talks to groups and shares what he has learned along the way. He has also been able to collaborate with many doctors and researchers from around the world who now use what he discovered in their research and practices. You can read about his new discoveries in the health section of this website and his book on natural health (The Briobiotic Protocol) which is available at many retailers.
—— Personal Life & Interesting Notes ——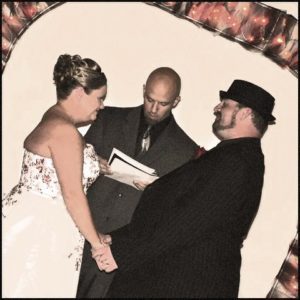 Robertson is divorced father of one. Robertson considers himself a Jeffersonian Constitutionalist and often writes about the importance of understanding Natural Rights.  His number one love is his daughter… but he loves music and was once in a rock band called Zerofixx. Robertson officiates weddings for friends and family, he loves to skydive, he is an aspiring pilot, he rides motorcycles, writes poetry and loves to camp.
– The "Artist" –
Robertson has been a life-long fan of artistic things. Some of his favorite artists include Maurits Cornelis Escher and Pablo Picasso – though some might find it for odd reasons. Robertson enjoys drawing and painting but his specialty is graphic design.
Debates have raged on as to whether graphic design can be considered "art". For years, Robertson has set out to demonstrate that it is. Early on, Robertson began making what he calls "Hyper-Collage". A collage is an art technique where the artwork is made from an assemblage of different pictures into a new whole. Often consisting of glued paper, objects, and other foreign matter, Robertson thought it could also hold true in other forms such a graphic design.
Normally, his work consists of no less than five original pictures – merged together to make a new seamless image. Often dramatic, these images are color-rich and hide deeper meaning within the picture.
Another graphic design technique that Robertson enjoys is something called "Mock Oil". In this, an image is created using the brush strokes of a mouse instead of a paintbrush. Sometimes taking weeks to complete, the outcome is often hard to distinguish from canvas paintings.
Robertson's images can be found in many homes as décor and some can be found on this website.
In addition to the art, Robertson has put his graphic design skills to use making a bunch of political memes that have been passed around the globe. This website hosts just a few of the many that you might recognize.
– Music & ZeroFixx –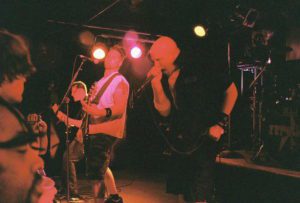 Robertson had been involved in music since the 4th grade when he played the trumpet. The following year he played the violin. In the sixth grade, he joined choir and that is where his love of music remained throughout high school. Once an exceptional singer, Robertson participated in every advanced music group his high school offered but chose not to pursue music in college due to his love of football.
In 2001, a group of friends approached Robertson about singing in a band after watching him sing karaoke a few times at a local bar. Believing it to be something that wouldn't go too far, he accepted. The band was named Zerofixx, a random name that was later given meaning by their fans.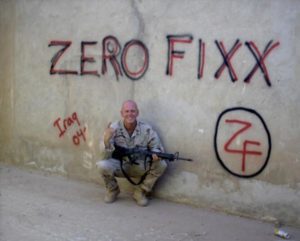 The band produced two albums with Robertson on vocals. The albums were released on the "Hold Up Records" label and were classified as Metal / Southern Rock. Their style was compared to acts like Hell Yeah, Mudvanye, Slip Knot, Deftones, Pantera, Sevendust and they shared the stage with many national acts.
Robertson carried his existing radio sponsorship with Red Bull over to the band and they became the only band in North America sponsored by Red Bull for several years. Their reputation for "energy" was well justified and Zerofixx packed venues across the West, Midwest and the South with fan-favorites such as Donutland, F*Mouth and political songs such as Changes.
Almost ironically, his musical influences vary dramatically. They include: Frédéric François Chopin, Igor Stravinsky, Chicago, Michael Buble, Third Eye Blind, Hopsin, Nothing but Thieves, George Strait, Tim McGraw, Muse, Bastille, Killswitch Engage, Pantera and Korn (among others).
– Military Service –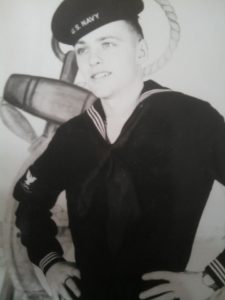 Robertson's family is riddled with men who served in the military and in law enforcement. One of his grandfathers was an Army Ranger; another grandfather was in the Navy and eventually served as a Captain of a Police Department. His uncle retired from law enforcement, his brother is a Senior Master Sergeant in the Air Force and his step-father served in the Marine Corps in Vietnam.
Growing up, Robertson felt a sense of duty – as many young men do as they near the end of high school. Due to the admiration he had for his step-father, Robertson began the process of enlistment into the United States Marine Corp Delayed Entry Program (a Reserve Component of Marine service) in 1996, in the hopes of one day becoming a pilot. However, due to a series of unfortunate circumstances which included an injury sustained playing football; Robertson was released from service in 1998 with the option to rejoin at a later date if resolution of the injury was realized.
Several years later, Robertson decided to give service another try. This time, he enlisted in the Army to join the 101st Airborne Division. Unfortunately, complications from an appendectomy in 1999 made digestion of preservatives a challenge. During an examination, it was discovered that Robertson was unable to digest the MRE's and that his shoulder was badly damaged. A medical board swiftly determined that he should be released from service. He was discharged from the Army as an E-3 under a Medical – Chapter 3 EPTS.
Point of Fact: Robertson refuses to claim any veteran status or receive any military benefits. However, while he believes the circumstances surrounding his attempts to serve are unfortunate, he is proud to have volunteered twice and is honored to have received the training that he did.
– Historical Heroes and Influences –
David lists his historical heroes and people of influence as:
Plato
Pythagoras
John Locke
Thomas Jefferson
Thomas Paine
Ethan Allen
John Henry Holliday
Nikola Tesla