The average American watches 153 hours of television a month, most of that is via mass media. That's 6.375 straight days worth of television. That's a lot of "programming". Parents are often quick to let the television do their babysitting and the truth is that many are not reviewing the propaganda being forced into their children's minds. Still, many wonder why their kids are so messed up and why this nation doesn't have a sense of principles or direction.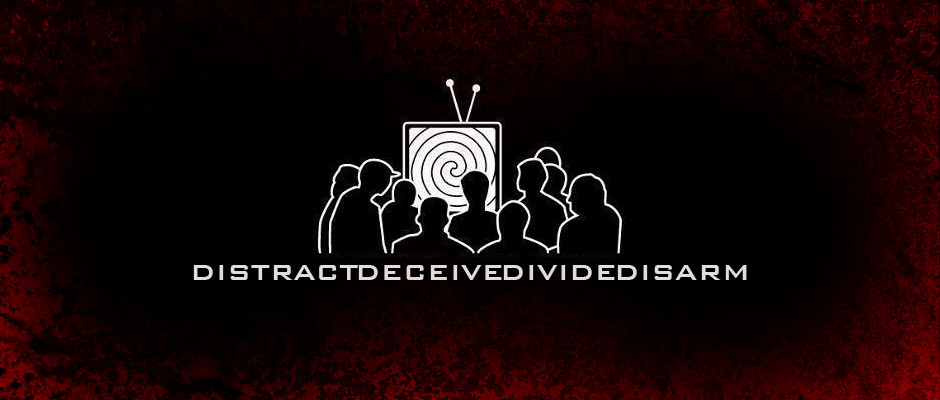 Think about where these children are getting their socialist ideas. Think about why our children are beginning to buy into the anti-gun efforts or the push for redistribution of wealth. Think about how the media pushes the idea that it's OK to hate or ban an American flag but it's not OK to do the same to a foreign flag. Imagine what the effects on this are going to be long term. It is a cause and effect scenario that I think can be avoided if we simply cut the cord.
Reflect for a second and think about this with an unbiased mind. Our media has allowed people like Piers Morgan to have a national platform to spew Foundational hatred. No one stops him. Our media has accepted blatant lies from the government and pushed them out to you anyway. Our media has aided and participated in the cover-ups engaged in by the government. Our media has perpetuated the false left/right political paradigm that continues to separate us. They have encouraged the racial divide of their viewers. We all know this, and yet we continue to watch and pay for it. It's madness.
It doesn't stop there. Think about the media's collective positions against the founders, the flag, or basic rights. This is not just news mind you, it includes regular television shows. They all continue to tell you that we live in a democracy when we know it's supposed to be a Republic. This is manipulation to say the very least. Think about media bias that comes about all the time. Think about how the repeated injustices taken on by authority are acceptable in the eyes of the media. Think about Anderson Cooper and how he faked Syria war footage, or Charles Jaco's first Gulf War "coverage". Blatant lies and these are just examples of course. The media is known for manipulating images as war propaganda, and they work hand in hand with the government who wants you to believe it. Still, we turn on the TV for the information we know is contorted. This is madness!
Think about the repeated examples of Manufactured 'Reality' TV. It's to the point where it has become nauseating to even consider watching. Still, we read about these shows in our magazines, and they are often the topic of conversation between friends. Why? Think about what is considered "entertainment" these days. Where did the talent go? Are we REALLY to believe that Miley Cyrus, Rachel Ray, Honey Boo Boo, Housewives, etc. are REALLY entertainment? Should these people or these shows really be a topic of conversation when are in the midst of a dollar crisis, economic collapse, looming war, or any other of about a dozen issues that should be addressed instead? Or how about the extremely scary aspect of nationally scripted local 'news'?
The most disturbing aspect is that you can hear the laughter of the audience as though this is funny! I guess I don't see the humor in being indoctrinated. This should scare you, not make you laugh. You should be outraged, not entertained.
And when someone of value and worth attempts to make a difference, they collectively avoid them and ensure they will not be seen by the public. Often, they will proactively ridicule them and be united in their efforts against the truth. For an example of this… look no further than Ron Paul during his last presidential bid. In November of 2011, CBS held one of their debates. Paul received 90 seconds in what was a 90 minute-long CBS debate. A leaked email to the Bachmann campaign would later indicate that a decision had been made to limit air time for certain candidates such as Paul, and was a deliberate CBS News policy. But it wasn't just CBS. The fact that Congressman Paul had received less face time than any other candidate throughout the entire campaign, despite having run third or fourth in most polls throughout the last several months should tell you something. On a similar note, how about when the media cuts off anyone who attempts to expose real truth on national news?
According to the Wall Street Journal, the average cable TV subscriber pays nearly three times as much for cable now as they did in 2001. What once cost viewers approximately $48 a month, now costs on average about $128 per month. Why do we continue to pay for such garbage? They should be paying us to watch it.
So not only are these media companies forcing garbage and lies down the throats of Americans, they are making them pay through the nose to do it. This reminds me of some kind of horrible drug habit. And like any bad habit, one must make a conscious effort to rid themselves of it. I guess I've just had it. The negatives beat out any kind of benefit at this point. So I'm cutting the cord. I will no longer allow the poison to enter my home via the television. I cannot tell my children that television destroys your brain when I have it available and I pay for it. That makes me a hypocrite. Plus, it's going to save me over a grand a year.
Now, some of you might be thinking that getting rid of television is a rather drastic step. You might say that if I just avoid the news or related stations, I would be OK. But nothing could be further from the truth. The truth is if you have a television set and you watching programming on that television, you are getting it from all angles. Now, I'm not saying a movie or show once in a while is a bad thing, but being able to screen and think about what you are accepting as fact is paramount. Avoiding advertising and scripted propaganda is always a great idea. Let me demonstrate something.
Today, there are really just six corporations that collectively control U.S. media. These six are Time Warner, Walt Disney, Viacom, Rupert Murdoch's News Corp., CBS Corporation and NBC Universal. These corporations are all beholden to their advertisers. Oddly enough, these companies (or the people who head them) are also affiliated with an organization that has a goal of eliminating American national sovereignty(1)(2). If that doesn't bother or scare you, then I don't know what else to tell you besides the fact that a good portion of your leaders are also affiliated with this very same organization… both left and right. The first minute of this video really helps to further that point.
These corporations exist to make money and they are pretty much guided as clearly demonstrated. They get their money from advertisers who are often also members of the exact same organization. Advertisers such as drug companies – who provide drugs that literally poison us, but were deemed acceptable via the government. Advertisers such as the federal government attempting to sell you on things like the Affordable Care Act, global initiatives, or the idea that we are in some kind of recovery. Look at the following for a second. Then understand that this is not a complete list, but merely an example of the point.
Time Warner
Home Box Office (HBO)
Time Inc.
Turner Broadcasting System, Inc.
Warner Bros. Entertainment Inc.
CW Network (partial ownership)
TMZ
New Line Cinema
Time Warner Cable
Cinemax
Cartoon Network
TBS
TNT
America Online
MapQuest
Moviefone
Castle Rock
Sports Illustrated
Fortune
Marie Claire
People Magazine
Walt Disney
ABC Television Network
Disney Publishing
ESPN Inc.
Disney Channel
SOAPnet
A&E
Lifetime
Buena Vista Home Entertainment
Buena Vista Theatrical Productions
Buena Vista Records
Disney Records
Hollywood Records
Miramax Films
Touchstone Pictures
Walt Disney Pictures
Pixar Animation Studios
Buena Vista Games
Hyperion Books
Viacom
Paramount Pictures
Paramount Home Entertainment
Black Entertainment Television (BET)
Comedy Central
Country Music Television (CMT)
Logo
MTV
MTV Canada
MTV2
Nick Magazine
Nick at Nite
Nick Jr.
Nickelodeon
Noggin
Spike TV
The Movie Channel
TV Land
VH1
News Corporation
Dow Jones & Company, Inc.
Fox Television Stations
The New York Post
Fox Searchlight Pictures
Beliefnet
Fox Business Network
Fox Kids Europe
Fox News Channel
Fox Sports Net
Fox Television Network
FX
My Network TV
MySpace
News Limited News
Phoenix InfoNews Channel
Phoenix Movies Channel
Sky PerfecTV
Speed Channel
STAR TV India
STAR TV Taiwan
STAR World
Times Higher Education Supplement Magazine
Times Literary Supplement Magazine
Times of London
20th Century Fox Home Entertainment
20th Century Fox International
20th Century Fox Studios
20th Century Fox Television
BSkyB
DIRECTV
The Wall Street Journal
Fox Broadcasting Company
Fox Interactive Media
FOXTEL
HarperCollins Publishers
The National Geographic Channel
National Rugby League
News Interactive
News Outdoor
Radio Veronica
ReganBooks
Sky Italia
Sky Radio Denmark
Sky Radio Germany
Sky Radio Netherlands
STAR
Zondervan
CBS Corporation
CBS News
CBS Sports
CBS Television Network
CNET
Showtime
TV.com
CBS Radio Inc. (130 stations)
CBS Consumer Products
CBS Outdoor
CW Network (50% ownership)
Infinity Broadcasting
Simon & Schuster (Pocket Books, Scribner)
Westwood One Radio Network
NBC Universal
Bravo
CNBC
NBC News
MSNBC
NBC Sports
NBC Television Network
Oxygen
SciFi Magazine
Syfy (Sci Fi Channel)
Telemundo
USA Network
Weather Channel
Focus Features
NBC Universal Television Distribution
NBC Universal Television Studio
Paxson Communications (partial ownership)
Trio
Universal Parks & Resorts
Universal Pictures
Universal Studio Home Video
I'm sure by now, you can see. It just gets worse the deeper you dig. I just can't do it anymore, and I'm sure as heck not going to pay for the indoctrination. We can complain all we want, but it will not change unless we make them. I for one will no longer pay to have my family indoctrinated or brainwashed with communist or socialist ideals if I can help it.
"The CFR… should be familiar to every American concerned with good government, and with preserving and defending the US Constitution and our free-enterprise system. Yet, the nation's right-to-know machinery, the news media, usually so aggressive in exposures to inform our people, remain conspicuously silent when it comes to the CFR, its members, and their activities."
~Congressman John R Rarick
Effective immediately… I cut the cord of indoctrination and propaganda, and I'm saving money and sanity by doing it.