How can the largest privately held corporation on the planet be willfully blind to some of their more systemic problems? The simple answer may be fear, but nonetheless, the result has already taken its toll and will continue to expand in scope moving forward unless someone in leadership begins to heal the gaping wounds. The direction the company is currently heading and the current trends suggest Sam Walton would simply not approve. There is an obvious misalignment of goals and leadership within Wal-Mart and it is resulting in and will continue to result in enormous losses of profit, market share, and quality personnel.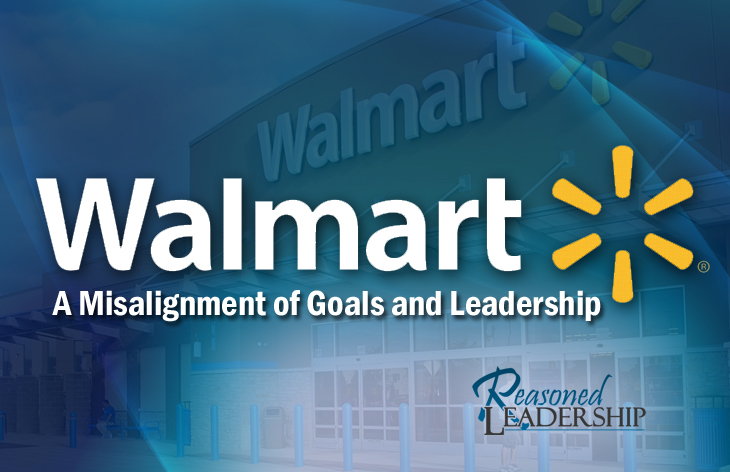 Who is Wal-Mart?
Wal-Mart is 2014's number one, Top 100 Largest U.S. Based Retail Companies, on the World's Largest Retailers List (Farfan, 2014). Basically, Wal-Mart is the world's largest private employer. In fact, they are the third-largest overall employer in the world; next to the US Department of Defense and China's People's Liberation Army (Alexander, 2012).
As of October 2009, Wal-Mart stores operate in Argentina, Brazil, Canada, Chile, China, Costa Rica, El Salvador, Guatemala, Honduras, India, Japan, Mexico, Nicaragua, Puerto Rico, the United Kingdom, and the United States. Wal-Mart isn't just big box stores though. In 2010, Wal-Mart confirmed it was acquiring the video streaming company Vudu, Inc. In 2011, Wal-Mart also acquired 51% of Massmart Holdings, which gave the company access to the elusive African countries of South Africa, Botswana, Ghana, Lesotho, Malawi, Mauritius, Mozambique, Namibia, Nigeria, Swaziland, Tanzania, Uganda and Zambia (Wal-Mart, 2014).
Wal-Mart's rise to power is due in great part to the vision and mission of Sam Walton. Sam Walton, the creator of Wal-Mart, started out his retail career by borrowing $25,000 from his father-in-law to buy his first store, a Ben Franklin franchise in Newport, Arkansas in 1945 (Biography, 2014). Within years, Walton was able to capitalize on this investment and eventually owned 15 Ben Franklins. However, Sam's ultimate vision was not shared with the leadership at Ben Franklin. That vision was to open retail stores in rural areas, the very thing that would eventually make Wal-Mart the powerhouse it is today. So in 1962, Sam opened up his first Wal-Mart store in Rogers, Arkansas (Biography, 2014). Within fourteen years, Wal-Mart would be a publicly-traded company and worth over $170 million.
Today, Wal-Mart has well over 10,000 locations and reports a US revenue of over $470 billion. But there is a darker side to this story. Many, both inside and outside of the company say that Wal-Mart is a different company today than it was during Sam's reign, and not in a good way. People suggest that perhaps the priorities are different. Sam died of cancer on April 5, 1992, in Little Rock, Arkansas (Martin, 2013). Some say the "real" Wal-Mart died along with him. According to Arkansas Business, "some put the blame on Wal-Mart's management team, saying it has drifted away from Walton's essential philosophy…" (Friedman, 2012). This is our first strong indicator in regard to misaligned leadership and goals.
Wal-Mart's Mission and Vision
Wal-Mart's mission statement can probably be repeated by just about any American today. Wal-Mart's mission statement is simple: "We save people money so they can live better." This mission statement is used as Wal-Mart's marketing ploy, it is repeated over and over again, and the public responds in kind. It is not just a marketing ploy though. This statement is used repeatedly throughout the organization with the same tenacity. It's the Wal-Mart way. It is said so often that it is easy to see how both the public and the company's workforce believe it.
In regard to the perception of company expectation, the company looks to its founder, Sam Walton for a company "purpose". His words are used both internally and publicly to demonstrate the desired state in which Wal-Mart wants to operate, or least demonstrate how they want the world to envision them operating. One such example would be Sam's statement that "If we work together, we'll lower the cost of living for everyone…we'll give the world an opportunity to see what it's like to save and have a better life" (Wal-Mart, 2014).
In order to fulfill its mission, vision, and keep up public perception, Wal-Mart has developed some unique, policies, principles, rules, processes and procedures, in an effort to create and solidify a unique and easily identifiable corporate culture.
Perception and Expectation
Open Door Policy – Wal-Mart frowns upon the idea of Unions. In an effort to avoid associates creating or joining such an organization, the company has instated something called the "Open Door Policy". This means that a managers' door is always open to employees at all levels. If you have discussed a certain situation with a manager but did not like the outcome, you can "appeal" to higher-level manager or even take something all the way to the board or CEO.
Sundown Rule – Communication is paramount in any effective organization. In an effort to keep the company moving in the right direction, a policy of immediate response was put in place. The idea is that answering employee, customer, and supplier questions on the same day the questions are received are critical, even if you do not know the answer and need to continue to do research. The idea is to keep that person posted to the progress of a potential solution.
Grass Roots Process – No one recognizes a problem better than the people who are actually faced with it. Additionally, each worker can think of plenty of ideas that would make their job either easier or more efficient. Wal-Mart encourages such ideas or suggestions to be captured by management and elevated for evaluation.
3 Basic Beliefs & Values – Respect for the Individual, Service to our Customers, Striving for Excellence. While vague in nature, they are also very universal. These are the words an employee will hear repeatedly. If the actions of an employee somehow go against these three basic beliefs, their job may be in jeopardy.
10-Foot Rule – At Wal-Mart, they will tell you that research indicates that customers have a happier shopping experience when the associates are engaged with their customers. As a result, customers will be more likely to shop at the store again. Because of this, the "10-Foot Rule" was created. This rule states that if a customer comes within ten feet of an associate, that associate must make eye contact, verbally greet the customer, and offer to help that customer.
Servant Leadership – At Wal-Mart, you are supposed to trust your leader. It is expected that your leader will fight for you, mentor you, help to promote you, and always be on your side. Leaders are in service to their team – always; just like Sam was.
Wal-Mart Cheer – Every morning, right after the morning meeting, the entire team will stand in a circle and cheer. This is a structured chant that was created by founder Sam Walton to lift morale every morning. Of course, it is tweaked to fit the individual store and promote an atmosphere of teamwork.
Identified Gap
The mission statement is so simple and repeated so much, it has become ingrained in the minds of most Americans regardless of the inaccuracy of the statement. This is actually part of the problem. It has been said that the secret to effective propaganda is to "Keep the message simple; repeat it and repeat it again. Don't admit doubts or qualifications. Always attack. Know that the biggest untruths will be believed" (Krieger, 2004). Wal-Mart does just that, so most people are under the assumption that Wal-Mart not only saves you money but that they are always the cheapest in regard to the products they sell. The second marketing ploy that reinforces the first is Wal-Mart's "Low Price Guarantee", where Wal-Mart promises to have the lowest price or will match competitors' prices if you find a lower one.
However, this requires research on behalf of the consumer and Wal-Mart appears to be relying on consumer ignorance. This is because Wal-Mart is actually raising prices on items and is no longer consistently cheaper than competitors such as Target. In fact, many reports over the last several years prove this. As far as back as 2010, and as posted in the New York Post, a JPMorgan Chase study found that Wal-Mart had raised prices by nearly 6% on average over the course of a six week period (Berr, 2010). In fact, studies show that competitor prices are either equal or even less when the customer is enrolled in customer loyalty programs (Washam, 2014).
This is not to say that Wal-Mart is doing anything a competitor does not do. Wal-Mart does attempt to lower its prices wherever possible. They buy in bulk and they do pass some savings onto customers when it provides a strategic advantage. However, this is only part of the problem. The critical part appears to be the misalignment of goals and leadership's lack of commitment to correct it and this is a well-known problem in Wal-Mart. An Assistant Manager for a local Wal-Mart facility stated to me that there is a clear misalignment of goals and leadership within the company, but blames this gap on societal decay (personal communication, October 30, 2014). He says that as a society, we expect the virtuous and integrity driven, but few times do we actually find this in society. When asked if he felt that the company was living up to what Sam Walton expected, he said absolutely not. "Sam was all about rewarding hard work. Today, people expect reward for showing up. You will find this at all levels in the company." He also states that there are "too many chiefs", things take too long to happen and there are too many directions everyone is expected to go in. He also notes dislike for the many undertones of so many different company policies. For example, let us again review the list of corporate culture items recently addressed and talk about how they are really applied.
How It Really Is
Open Door Policy – Wal-Mart frowns upon the idea of Unions because they cost the company money. There is an open-door policy but that does not necessarily mean anything is going to get done about the specific problem. In fact, the open-door policy is more about letting the associate be heard. Even the medical community admits that listening is often more important to the patient than actually fixing a problem (Thomas & Pollio, 2002). The same can be said in a work environment.
Sundown Rule – This plays into the Open Door Policy. The idea is really about pacifying the complainant while a solution can be found, or if a solution cannot be found. What the company does not want is for the complaining party to escalate a problem into something bigger or more expensive than it has to be. Communication keeps a person calm and provides a "cool-off" period.
Grass Roots Process – Once again, being heard is a big part of job satisfaction. If someone has an idea, they are encouraged to elevate that idea to a manager. If that manager believes it is viable, they may or may not elevate it above themselves. They are under no requirement to share ideas either for the store or the organization as a whole. The organization does not have a repository for such ideas anyway, and if there be one, few know where it is or how to utilize it. An even darker side of this one is when the company takes ideas they find useful, and provides no credit or compensation even when agreed upon.
3 Basic Beliefs & Values – Respect for the Individual, Service to our Customers, Striving for Excellence. It is likely that these are vague for a reason, but they are also very much double-sided. If you revisit the previous perceptions, you will see that respect for the individual may just be superficial. If you have shopped the stores over the last five to eight years, you will notice a reduction in service to their customers, and as far as striving for excellence; Wal-Mart boasts a growth rate of just over 10% since 2008. In fact, Wal-Mart has grown slower than Target, Costco, and Amazon over the past several years and is underperforming its competition in both discount and warehouse sales (Hoium, 2013), not to mention the price contradiction already addressed. Excellence is clearly not something being strived for, and if it is, it simply not being achieved. This might have something to do with the lack of investment into innovations to solve problems that customers repeatedly have.
10-Foot Rule – Because Wal-Mart continues to reduce the size of their staff, they have developed a theft/shrink problem. This was even addressed by their new CEO. Greeting customers when they come in the store makes that customer aware that their presence has been noticed. The ten-foot rule policy states that an associate must make eye contact, verbally greet the customer, and offer to help that customer when they notice their presence. Notice, this policy mimics the recipe necessary to help prevent any potential thief from feeling comfortable enough to steal.
Servant Leadership – John E. Barbuto, Jr., and Daniel W. Wheeler (2006) suggest that both altruistic behaviors and wisdom are aspects of Servant Leadership. Personal experience suggests that at Wal-Mart, leadership is all about themselves. Many in leadership are simply looking for their next promotion and are quick to leave others behind. They seek resume builders and strategic alliances and I have seen leaders turn on or abandon their subordinates in an effort to ensure this. The altruistic are rare and the company's current direction does not come across as wise.
Wal-Mart Cheer – This is something that the vast majority of Wal-Mart employees simply hate to do anymore. Many believe it is simply outdated and/or lost its luster since Sam passed. At best, it has become a novelty.
It Becomes Systemic
Misaligned goals and leadership can be a debilitating issue for any company. To combat this, some companies will compare the business results with their strategic plan performance. This is to see if the company is not only performing well but also to see if the company is moving along in-line with their mission and vision. However, in many cases, this evaluation is done by the management team. The irony is that if there is a misalignment of goals and/or leadership, the true nature of the misalignment may not be shown if the company is reliant on the same leadership for this type of evaluation. This is because the information becomes biased or may even be hidden. Hence, an underlying problem can become systemic and fester over a long period of time, going completely unnoticed until it is quite possibly too late.
This problem has been identified numerous times from numerous different industries over a great many years. As a result, companies started to seek out solutions. One such solution was to create the cross-functional team; a group of people with different functional expertise working toward a common goal. Companies utilize the cross-functional team in many different ways and depending on the types of departments the organization actually has. These teams may include employees from finance, marketing, operations, asset protection, and human resources departments, etc. Again, there appears to be another problem: over 50% of team members view their cross-functional team's work as unsuccessful, with weak leadership being referenced as a major contributor (Proehl, 1996). This is especially true if the team's findings are simply ignored.
Wal-Mart may eventually be the example of death by success because they are living the issues just addressed. In addition, their hierarchy may simply be too tall, which may be a contributing or even encouraging factor in the misalignment of goals and leadership. The overall goals that are conveyed to the field (employees) by the company are often not enforced or encouraged by leadership in the way they were meant to. Meanwhile, what mid-leadership enforces and encourages contradicts the goals provided by the company. This is especially true in regard to cross-functional teams such as Logistics, Merchandising, and Asset Protection, who are tasked with ensuring the integrity of the operation from all angles, to maximize profit when possible while also reducing or eliminating shrink when identified.
A quick example of this would be as follows. A cross-functional team was created to help identify the source of shrink in a particular store because that shrink was excessively high in regard to company standards – to the point that this particular store would eventually be closed. Operations, asset protection, and finance got together and began to look at the many different types of information. All the information continued to point to two particular areas; theft and missing product. Theft was easier to identify because of the tracking mechanism already in place. The missing product was a challenge though because the proof was needed and a paper trail was lacking.
The team decided that the best course of action was to begin auditing each and every truck and match it with paperwork received in invoicing. Over the course of the first month, over five thousand dollars was identified as "missing from the truck". The team decided to continue the process of auditing to ensure such loss was consistent. Within a six month period, over twenty-nine thousand dollars was identified as "missing from the truck".
The team compiled the information and presented it to the regional team. The regional team was upset that the market had allowed the creation of the cross-functional team and that the store was auditing the trucks. The team was told to cease auditing activity immediately and seek out shrink somewhere else. Within weeks, it was discovered that other stores in the area were reporting massive losses from missing items as well. No remedy was ever given and the team was told to focus or other issues. The motive for the region's position was never discovered or relayed. The store in this example was the smallest store in the region during that time. If this problem existed in many stores (which is highly likely) that would equate to a loss of no less than $319,000,000 for the company in just six months.
If It Continues
If these trends continue, it would not be hard to imagine a world with a substantial reduction in Wal-Mart stores. When problems such as these become systemic, the company will hemorrhage money and quality personnel. As a result, the company would undoubtedly be forced to shut down existing locations and/or refocus on their goals or current direction. Such trends are not unheard of in retail, and in today's economy, waste is not something most retail companies can afford to do. Other retailers are already reducing waste; businesses like Sears, JC Penney, Macy's, Target, etc., are all currently, or making plans to shut down lots of stores, lay employees off, and reduce the square footage of the few stores they aim to keep (Robertson, 2014). And as we have already seen, Wal-Mart has been forced to do the same recently, but the waste within the stores remains. Regardless of which action is taken, the amount of money lost would be substantial and that cost would more than likely be passed down to the consumer, who would simply choose a lower-cost retailer to purchase their products from – such as Amazon.com.
Factors Responsible for Gap
There are several factors responsible for the issue at hand. If one were to dissect the beast, they would undoubtedly discover hundreds of tiny little problems that could be corrected. However, based on evidence, it would have to boil down to a lack of leadership skills.
There is obviously something going on in the ranks of the Wal-Mart hierarchy. Is it motivated by greed, power, or even willful ignorance? This remains to be seen. Still, there is a massive gap in regard to the following leadership skills: Communication, Commitment, Coordination, Courage, Critical Thinking, Decision making, Financial Management, Good Judgment, Integrity, Listening, Problem Solving, Strategy, and Vision.
Remedies, Actions and Proposals
Communication is a fundamental aspect of any successful organization. Not pacification, but true communication. People in Wal-Mart need to be able to communicate with anyone in their hierarchy without fear of retaliation or some other kind of negative consequence. Though they say this is the case, it is clearly not. Retaliation is live and well in Wal-Mart.
The board of directors and the Wal-Mart hierarchy needs to solidify their commitment to the company vision and mission. This would include being truly committed to reducing waste, finding shrink, improving processes, and ensuring that identifying problems within the system is encouraged and acted upon by the company.
There needs to be a higher level or refinement of coordination between leaders and their subordinates. Information exchange should not be feared, it should be encouraged. A leader and their subordinate should be a team. This will help ensure the continuity of information from the top to the bottom.
The company needs to teach and encourage business courage. Employees and leaders need the courage to speak, the courage to act, and the courage to go against the grain. This is because it is not always easy to the right thing, but it is critical the right thing be done if a company is going to prosper the way that its employees and stakeholders are counting on it to do.
Leaders in Wal-Mart need to be able to make decisions and evaluate issues without being influenced by personal feelings or opinions. This is vital when considering and representing facts. Effective analysis and evaluation of an issue will help foster more sound decisions and solutions which will ultimately help leaders meet the company's goals. This is critical thinking at its finest.
So many times, people in leadership positions are not really leaders. As a result, they lack fundamental abilities such as decision making. Meaning: they lack the ability or intestinal fortitude to make decisions when such decisions are extremely necessary. The company must be willing to find those who can make decisions quickly and effectively and not be so quick to fire those who attempt to step up.
Financial management is a key element of leadership in a corporate environment. Understanding, caring about, and attempting to reduce financial waste can really help out the company as a whole. Leadership not only needs to focus on this element but should encourage the discovery of poor financial management. Problems can only be properly corrected if adequately identified.
Rejecting proposals and denying the existence of a 300 plus million dollar problem, does not exactly demonstrate good judgment. Trying to place someone in a position well below their capability level and qualification does not exactly demonstrate good judgment. Encouraging subordinates to ignore such massive losses while encouraging them to pick low hanging fruit, or hiring such leaders, or not getting rid of such leaders once identified, is not exactly a demonstration of good judgment either. The company needs to focus on fostering wise decisions in the face of adversity but must do so by being the example to follow. This means being more transparent.
The company is in dire need of an integrity booster. Being honest and having strong moral principles inspires people. Doing things for the right reasons inspires people. If the company wants an engaged and loyal workforce, they are going to need to lead by example here too.
The leadership in Wal-Mart needs to begin to truly listen to their workforce. This is not to be confused with "hearing". Listening requires a high-level concentration so that you can really process the meaning from words and sentences being used. Listening leads to learning. The company needs to learn from the workforce because those in the workforce are the ones who are experiencing the problems and those in leadership are the ones who need to learn from the staff.
Listening and learning will only aid in the ability to problem-solve. Problem-solving is fundamental when the previous headings have been addressed. One could imagine that a company would only want to problem-solve with well-informed leadership who has the integrity, ability, and desire to make sound decisions. Of course, these decisions should always be made collaboratively and made to reflect the overall vision and mission of the company. In addition, and to retain or even increase competitive advantage, such decisions should be made with a strategy in mind.
Conclusion
Fear, lack of true leadership, ignorance, or even greed or apathy; there are any number of reasons why Wal-Mart is beginning to suffer. As demonstrated, the result has already begun to take its toll and will continue to do so moving forward unless someone in leadership begins to bridge the gap between where the company wants to be and where the company really is. Cross-functional teams may be part of the solution, but willing to hear and act upon the findings the team presents is vital. There is an obvious misalignment of goals and leadership within Wal-Mart that is noticed both within the company and publicly. Furthermore, it is resulting in, and will continue to result in enormous losses of profit, market share, and quality personnel moving forward if not addressed effectively in the near future.
Be sure to check out my article titled, "Needed Organizational Improvements in Wal-Mart."
References
Alexander, R. (2012, March 19). Which is the world's biggest employer?. Retrieved from http://www.bbc.co.uk/news/magazine-17429786
Barbuto, J., & Wheeler, D. (January 01, 2006). Scale Development and Construct Clarification of Servant Leadership. Group & Organization Management, 31, 3, 300-326. Found in Pierce, J. L., & Newstrom, J. W. (2010). Leaders and the leadership process. New York: McGraw-Hill Higher Education.
Berr, J. (2010, August 10). Wal-Mart Quietly Raises Prices – DailyFinance. Retrieved from http://www.dailyfinance.com/2010/08/10/walmart-raises-prices/
Farfan, B. (2014, January 1). 2014 Top 100 Largest US Based Retail Companies on World's Largest List. About.com Retail Industry. Retrieved , from http://retailindustry.about.com/od/usretailcompaniesb/fl/2014-All-Worldrsquos-Largest-US-Retail-Chains-Biggest-American-Retailers_2.htm
Friedman, M. (2012, July 02). After sam: Did wal-mart lose its way after walton died?. Retrieved from http://www.arkansasbusiness.com/article/85510/after-sam-did-wal-mart-lose-its-way-after-walton-died?page=all
Hoium, T. (2013, October 10). Is Wal-Mart Heading for Disaster?. (WMT). Retrieved , from http://www.fool.com/investing/general/2013/10/10/is-wal-mart-heading-for-disaster.aspx
Krieger, J. (2004). The Oxford Companion to the Politics of the World. Oxford: Oxford University Press.
Martin, K. (2013). Samuel moore walton (1918–1992). In Encyclopedia of Arkansas History & Culture. University of Arkansas. Retrieved from http://www.encyclopediaofarkansas.net/encyclopedia/entry-detail.aspx?entryID=1792
Proehl, R. A. (January 01, 1996). Cross-functional teams: A panacea or just another headache?. Supervision, 57, 7, 6-9.
Robertson, D. (2014, January 23). The Economic Signs Often Point the Way – An American Warning. Retrieved from http://www.anamericanwarning.com/2014/01/economic-signs-often-point-way/
Sam Walton. (2014). The Biography Channel website. Retrieved 08:19, Feb 09, 2014, from http://www.biography.com/people/sam-walton-9523270.
Thomas, S. P., & Pollio, H. R. (2002). Listening to patients: A phenomenological approach to nursing research and practice. New York: Springer Pub. Co.
Wal-Mart. (2014). History timeline. Retrieved from http://corporate.walmart.com/our-story/history/history-timeline
Wal-Mart. (2014, January 1). Sam Walton, Founder of Walmart. Retrieved January 1, 2014, from http://corporate.walmart.com/our-story/history/sam-walton
Washam, C. (2014, March 6). Target Vs. Walmart: Which Is Really Cheaper? Retrieved from http://tcbmag.com/News/Recent-News/2014/March/Target-Vs-Walmart-Which-Is-Really-Cheaper