DHGate.com – REVIEW – SCAM ALERT – AVOID
Are you considering buying something from DHGate.com? If you are, you might want to reconsider. In fact, you might just want to avoid it altogether. Clearly, they are not screening their sellers.
Person/Company:
Location:
Online Shopping Website
Headquarters location: Beijing, China
Founder: Diane Wang
Founded: 2004, Beijing, China
Date of Visit:
August of 2020
Reason for Visit:
Buying equipment
My Rating:
★
What I Liked:
In all fairness, the prices do seem very low. Too good to be true, really. Perhaps that is the warning. Of course, these are primarily Chinese goods, so the cost is expected to be low. Of course, probably not the best quality either, but I never received my package so I'll likely never know.
What I Didn't Like:
Their customer service, the website itself, and the overall experience was probably one of the worst shopping experiences that I have had in recent years. In all fairness, the various stores are ran by independents but the site (in spite of their claims) doesn't seem to have much protection for, or interest in, their customers.
What Happened:
On August 12, 2020, I decided I would give it a shot. I found a seller (xianmiexie200) willing to part with some equipment for half off that day. I thought it was a good deal so I signed up and made the purchase.
On August 16, 2020, the DHGate.com system said that the package was shipped out and that the expected delivery date was August 21, 2020. Up until this point, things were going quite well.
However, the tracking number they provided showed a package that was already been delivered. In fact, it showed that my package was delivered two days prior to it actually shipping. How does this happen? The address appears to be right, but I had literally just signed up with DHGate.com that day and had never purchased anything from DHGate.com before.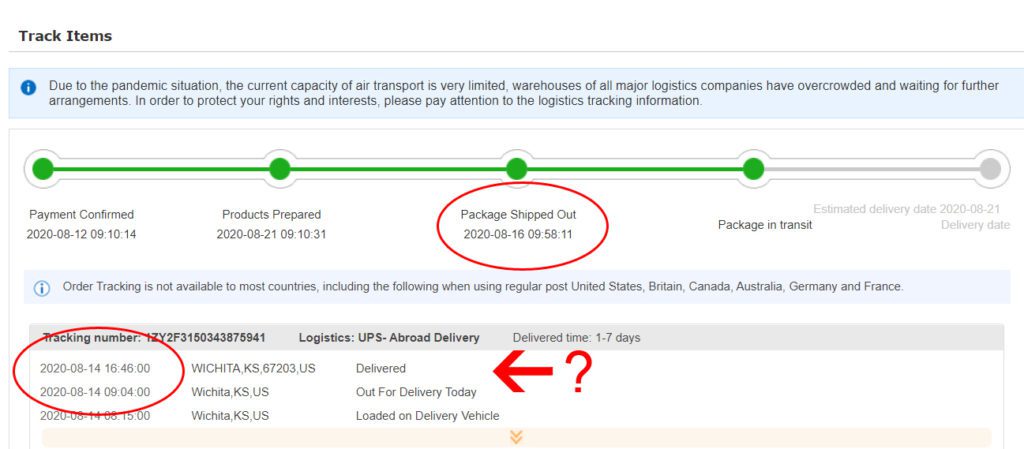 I decided to reach out to DHGate.com customer service for help. The email button didn't work so I attempted to try the chat function instead. After almost a 30 minute wait, I finally spoke with a "presentative" (seriously… that's what it said). However, they insisted that I had already received my package due to the incorrect tracking number provided.
Once I pointed out the date situation, they finally understood my position. But instead of stepping in and helping right away, they requested that I reach out to the seller for clarification. So I did as requested. Well, I tried but the buttons didn't work. So I reached out to customer service again and they said that they would reach out to the seller for me. Of course, I never got a response or clarification. So I decided to wait it out and see what happened once the expected delivery date arrived.
On August 25, 2020, after having not received the package, I reached out again. After another 20 minute wait, I finally spoke with customer service rep who also insisted that I had already received my package. After pointing out the date situation (again), they suggested that I open up a dispute. When I attempted to do so, the button to submit the dispute didn't work.
Well, the situation is on-going. I out the money, I haven't received the package, I cannot seem to get refund, and I can't seem to find a button on the website that works to get the help I need. What I do know is that between the broken site and the apathetic customer service reps, I have been reminded that paying a little extra on sites like Amazon is definitely worth it.
DHGate.com – definitely NOT worth the risk. Is it a scam? I don't know. They have been around since 2004, so someone (somewhere) must be getting their stuff. Either that or they have done a great job of keeping the funds low enough that few are going to go to the levels I would for a refund.
My Experience: TOTAL SCAM, waste of time, waste of money, but here's what you can do.
If you have fallen victim to this scam, you need to make some noise. There are two things you probably need to do.
Step 1: You need to reach out to USPS and file a Service Request for a lost package at https://www.usps.com/help/missing-mail.htm. They will tell you that the package was delivered to a different address. The truth is that the tracking number is likely just a duplicate. Try to get something from USPS (email or letter) simply stating that tracking number provided is not associated with your name or address. Then, contact DHGate Customer service and share the notes provided to you by USPS. Be sure to describe what has happened and be sure to point out the seller's name specifically. At this point, you should be able to get your refund.
Step 2: USPS has requested that those dealing with a similar issue file a report. You can go to https://www.uspis.gov/report/ and look for the "Mail Fraud" heading. Then file the report as directed. The more people that report their case, the more powerful that overall case becomes.
UPDATES
Update #1 – I opened up a service request with the USPS, their investigation found that neither my name or address was attached with the tracking number provided to me. Essentially, this is fraud.
Since posting this story, I have had quite a few people reach out to me with the same story regarding the same seller or DHGate. Understand that this seller is probably not the only seller doing this and DHGate has been contacted by all of the people (so far) that have reached out to me – so they are aware (or complicit). Be aware.
The good news is that USPS is aware of this situation. I pushed hard enough that my case got elevated. That was when we discovered that USPS is trying to do something about it.
Update #2 – The USPS sent me the requested document, stating that the package was not associated with my name or address. So I contacted DHGate and shared the information. The response I received felt as though they didn't think I would have gone to all this trouble. Well, Fierce When Roused!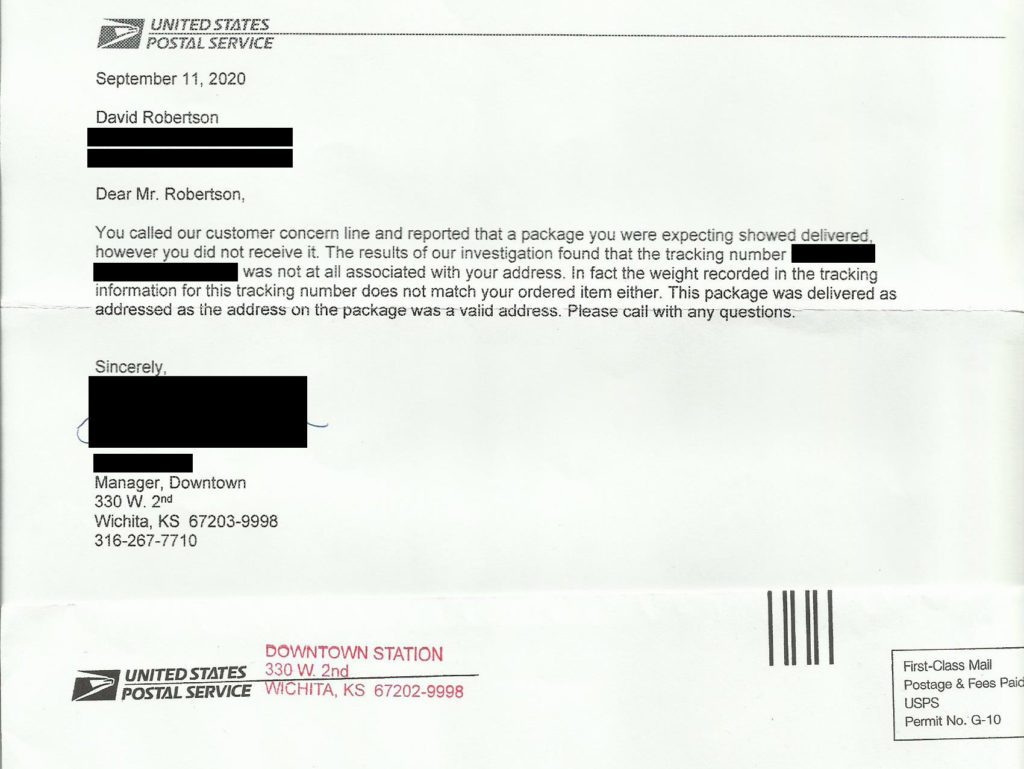 After some time, the customer service "presentative" from DHGate said that they would escalate my case to their "Dispute Department." Why they didn't do this when I first brought this to their attention is unknown. I share this so that you can understand some of the steps you might have to go through. They said that this department would investigate the matter more and that it would take several days.
I told the "presentative" that I was no longer interested in the product and that all I wanted was a refund, because I did not trust the site or process any longer. At this point, I did get an apology and the "presentative" said that sellers like this put DHGate's name in a bad light. She went on further to say that my dispute will serve as a complaint against the seller and that the seller would likely be penalized and fined for their actions.
Part of me doesn't want to believe them, but the other part of me knows it's China. I asked if I should expect a refund and I was told "Yes," and that I was protected under the DHGate system. I guess we'll see.
UPDATE #3 – So after providing the information that they originally requested, and after demonstrating a CLEAR problem regarding that seller, I got another response today (on the 14th of September) saying that they now request "document proof of the package weight issued by the post office." Furthermore, they wanted me to snap to it and get them the information within two days (by the 16th). Well, it took me about a week to get that original letter, so probably not happening. So much for that DHGate protection. Perhaps I could get the refund if I could somehow jump through enough hoops and then miraculously get the postal service to break their rules regarding information distribution.
After a rather heated conversation with another customer service rep, they finally said that I should open up another dispute. Of course, when I tried, the button didn't work because their system said I had an active dispute already open. In response, I told the customer service representative that if they wanted this article to be torn down, if they wanted my reviews to cease, and if they didn't want me to discuss such things on my podcast, they had two days to provide me proof of an investigation and resolution of the seller, a refund on my original purchase price about funds to cover the time I have wasted with them (now just over a month).
Of course, those were unreal expectations that they likely would not be able to meet. Which is fine, because this article/review will likely do more damage than the $100 they stole from me. And that makes me happy. If you decide not to business with them, add on whatever you might have spent with them to that tally.
FINAL UPDATE
Perhaps it was my direct tone or the damning nature of this review (which I told them about), but something finally made an impact. Yesterday, I was informed that I would be receiving a full refund. It is important to note that I had not provided the extra documents they requested and I had not had any additional conversations with DHGate since my last update. I checked my bank account today, and the money has been deposited.
Of course, since I am a man of my word, and since I did not receive proof of an investigation and resolution of the seller or any funds to cover the my wasted time, the review will remain. However, since I did receive my refund, my agitation of the matter will now cease.
Good luck with your situation. I hope this information helps you. Remember: don't give up and be willing to make some noise.