Great Place to Live in 2016
A New Year is upon us. This means new resolutions, new dreams, and new adventures. For some, it means going to the gym for about a month. For others, it will be a life-altering experience that might include moving and starting a new life.
It's not that uncommon at all, actually. Depending on how you would like to count it, roughly 12-14% of Americans move yearly. That's roughly 40 million people who will pack up their things and head out to a different dot on the map.
Some of you will move for a job, but some will move because they are tired of where they are at. So how do you decide? Where should you move to? Where will you be able to find people like you? Where will your chances be greater at finding meaningful employment?
Before you find that perfect city or neighborhood, you need to know which states you want to avoid. Our research indicates that people tend to avoid areas based on crime, drug use, education, unemployment, and personal values. So, here's a quick and easy way to begin to search.
The majority of the maps you will see are gradient-based. Meaning the closer to either color the state shows, the more it sways toward that heading. However, you will notice that most states are quite mixed. I'll spell out an example for clarity.
Example – Education: The brighter the orange, the more people with bachelor's degrees you will find. The lighter the orange (and closer to white), the few people with bachelor's degrees you'll be able to find.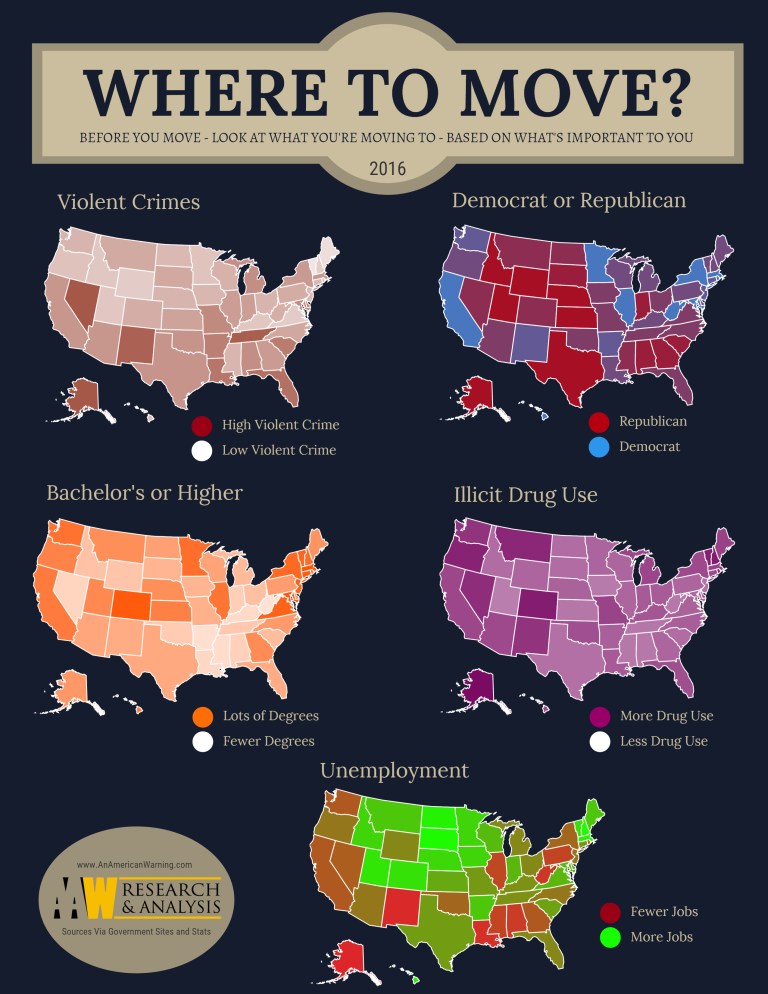 Interested in learning about more places to avoid? LifeHacker has an article titled "Where You Should Live if You Want to Avoid a Natural Disaster."
Niche has an interesting ranking of cities in an article titled "2016 Best Cities to Live in America"