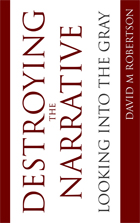 Nothing is off-limits in this raw historical and modern commentary. From the truth about Slavery to Climate Change, Destroying the Narrative is one smack in the face after another. Each chapter provides insight that most people in this country simply do not know.
In today's America, the nation is literally divided over many things. From our collective history to the form of government we should have, it seems everyone has a strong opinion in one way or another. Destroying the Narrative attempts to prove that much of what we have been divided over was based on partial truths and outright lies. That's a bold claim, but you will be amazed at how true that claim really is.
This is not some marketing ploy. This is a huge problem that David takes quite seriously. Topics covered in the book include Native American History, Race, Slavery, Border Issues, Government, Globalism, Climate Change, Taxation, Corruption, Rights, and so much more. This book will aggravate you, enlighten you and empower you.
NOTE: THIS BOOK IS NOT FOR EVERYONE! Allow us to share the first three paragraphs of the book with you:
The contents of this book will come as a shock to most people, and some of this may not be comfortable to read. That is the point. I aim to shake you. In order to do that, I must reveal some truths about education, the media and much more. This will include some uncomfortable truths about the Democrats, the Republicans, our history and our planet. If you are not prepared… put this book down right now. I am not kidding.
If you chose to read on, know that I have to shake you because of a known phenomenon that Norbert Schwarz discovered. I will remind you of this later but basically, he found that when the factually correct information was provided to some people, their misconceptions or myths about those topics not only continued, but were often reinforced by the attempt to correct them. I hope that reading and completing this book proves to yourself that you have an open mind, that you are not willfully ignorant and that you are able to learn objectively.
This will not be just a bunch of facts and figures. I need to have a conversation with you so I am going to write this with a very conversational tone but also in a very aggressive manner. Understand that some of this may not settle well with you. As you read this, try to keep in mind that truth can only be realized by those that are willing to question the biased narrative that they have been sold. An open mind is critical for what you are about to read; I have provided a solid bibliography to be researched in the hopes that you will investigate further.
Destroying the Narrative will be a great warm-up or follow-up to RELOADED – An American Warning.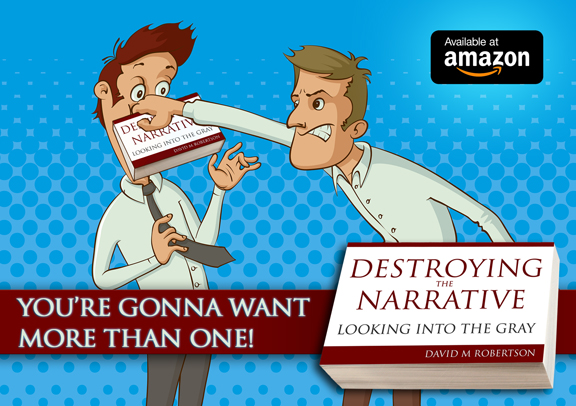 What Are They Saying About Destroying the Narrative:
Harry L Blackstock III on August 20, 2017 – Format: Kindle Edition|Verified Purchase
"Great book exposing the lies and half-truths that have been fed to us to advance the narrative of those seeking to bring down our Constitution and replace it with a one-world socialist government. Very easy to read and follow."
Stacie on August 9, 2017 – Format: Paperback|Verified Purchase
This book will cause you to either open your mind or piss you off. If you like to be challenged in your thinking, read this book. If you think you know all the answers to current situations, then blow your own mind and read this book. I walked away, questioning more than the book discussed. A must-read!
Andrea on August 6, 2017 – Format: Paperback
This book is full of whammies, it really does change the narrative! Get your hi-lighter you will want to refer to this book often. Education is the key, and this book brings it.
Average Rating: 5 out of 5 Stars – Read More Reviews by Clicking Here
Supported By:
Social Media: No Longer Available
Youtube: No Longer Available
Conferences: No Longer Available
Product Details
Print Length: 408 pages
ISBN-13: 978-0692930700
ISBN-10: 0692930701
Publisher: DMR Publications
Publication Date: July 31 – August 1 2017
Language: English
ASIN: B074GPQB8Q
Product Dimensions: 5 x 1 x 8 inches
Shipping Weight: 1.2 pounds
No Longer Available