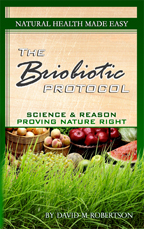 Natural Health Made Easy! Try the Briobiotic Protocol.
The topic of health can be confusing. This book aims to help simplify the topic using both science and reason and helps prove that perhaps Nature was right all along. It also provides tips and supplement suggestions in the effort to help fill the gaps made by inadequate diet.
Of particular interest, there are plenty of tips and tricks to help boost immune function and battle antibiotic resistant super-bugs that are becoming more commonplace.
Natural Health takes a lot more than just drinking water and exercising; it takes understanding. Think about what you're up against. Big business is selling the latest health trend, fast food is selling their new "health" product and people are inundated with phrases like "low-fat" or "no-fat". Are you equipped to navigate your way?
You will be by the time you're done reading this book.
NOTE: THIS BOOK IS NO LONGER IN PRINT
Some Examples of What People Are Saying:
Barry May 31, 2016 – Format: Paperback|Verified Purchase
"Great book about getting and staying healthy without breaking the bank at the Dr's office."
Mindy August 16, 2016 – Format: Paperback|Verified Purchase
The information in The Briobiotic Protocol is very helpful. It is a very easy read and it is easily understood.
SW June 25, 2016 – Format: Paperback|Verified Purchase
Great read! Will be sharing with those I love. Would highly recommend.
Supported By:
Social Media: Several different social media groups dedicated to health such as "Natural Healing" on Facebook.
Articles: Articles about the Briobiotic and natural health tips are provided for numerous different websites.
Strategic Advertising: Putting the Briobiotic out there in strategic ways
Conferences: Speaking engagements and Seminars
Product Details
Paperback: 214 pages
Publisher: DMR Publications; 1 edition (April 7, 2016)
Language: English
ISBN-10: 0692688625
ISBN-13: 978-0692688625
Product Dimensions: 5 x 0.5 x 8 inches
NO LONGER IN PRINT