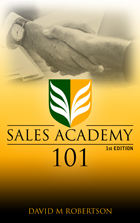 People use sales throughout their lives no matter who they are or what they really do for a living. Every day, in every way, learning solid sales skills can help you. Whether you are applying for a job, interacting with family members, getting to know your neighbors, dealing with the sales clerk or conversing with the customer service rep on the phone; acquiring sales skills can help you get the results you seek.
Unfortunately, it feels as though the art of sales is dying. We've become a nation of order takers and customer service reps uninterested in the people we serve. It's true that this little book isn't going to fix that. It is, however, a pretty decent start. This easy-to-read and understand sales guide will definitely get the sales ball rolling for you.
This Guide is Great For: – You – People like you..
Some Examples of What People Are Saying:
E Dickey October 23, 2018 – Format: Paperback
"I have been in sales for 19 years and sometimes you just need to be reminded of the basics! Sales Academy 101 was a good, easy read with lots of great advice for the novice or seasoned sales professional. Sometimes, experience leads us in directions that steer us away from what has always worked, which leads you to overthink your skill and processes. This book can help get you back on the right track."
Reviews Pending – Check back
Average Rating: 5 Stars
Supported By:
Corporate/Business: Used by various organizations as a sales training guide
Conferences: Speaking engagements and interactions
Product Details
Print Length: 46 pages
Publisher: DMR Publications
Publication Date: October 20, 2018
Language: English
ISBN-10: 1726708314
ISBN-13: 978-1726708319
Product Dimensions: 5 x 0.1 x 8 inches
Shipping Weight: 3.5 ounces
No Longer Available